The World → Noniville → Undertaker's Store
Run by the
Undertaker
, the Undertaker's Store is where anyone can purchase a coffin.  Also available at the store is advice for the Undertakes is known for knowing all.  But beware, upon entering the store watch out for the Undertaker, for you never know where he is going to come from.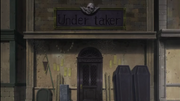 Ad blocker interference detected!
Wikia is a free-to-use site that makes money from advertising. We have a modified experience for viewers using ad blockers

Wikia is not accessible if you've made further modifications. Remove the custom ad blocker rule(s) and the page will load as expected.